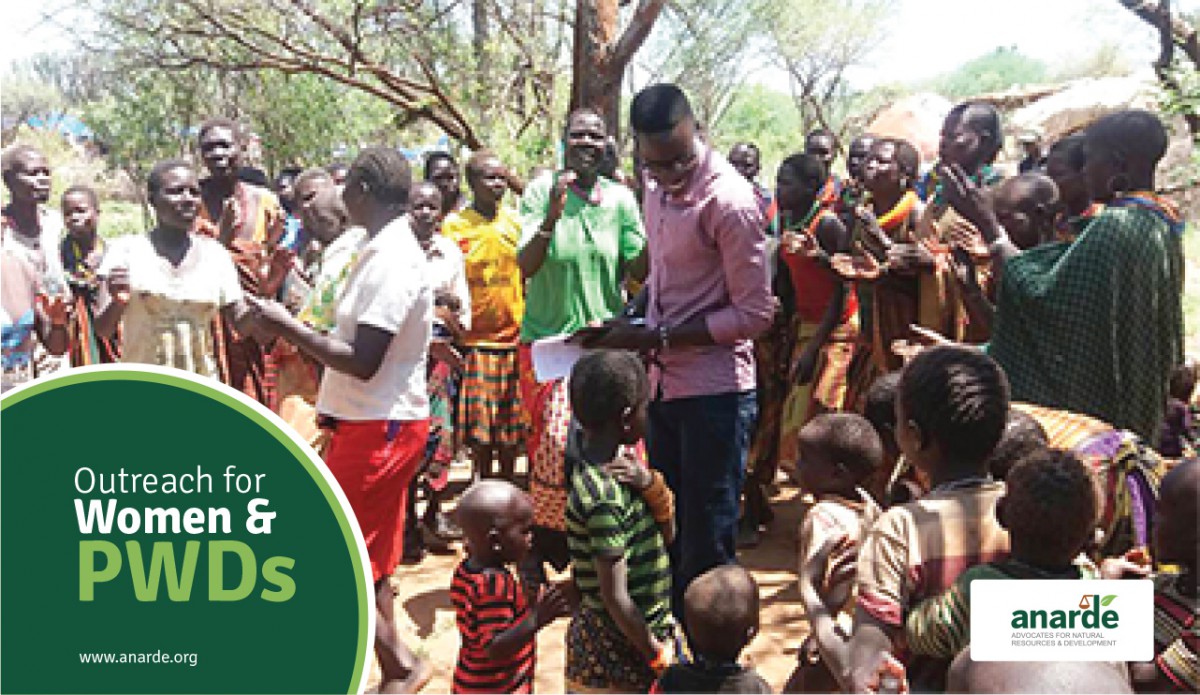 Outreach for Women and PWDS, Women in Morulem discuss issues women go through around mining in Karamoja
Women in Morulem discuss issues women go through around mining in Karamoja
Under its current project, ANARDE is working to build up the power of vulnerable people to act by enabling them to access justice effectively. The project aims to strengthen access to justice through promoting justice, rights and accountability in those regions.
The project includes a combination of interventions intended to have a short- and medium-term impact by tangibly improving access to justice for target groups and a long-term impact by building the capacity of key actors.
Under outreach specific; for Women and PWD's ANARDE carried out a presentation and a needs assessment in Abim and Moroto districts. The target participants were women in leadership and women in mining areas. This activity was carried out to identify the needs that women need to be addressed and also to find the hotspots in those areas. Issues identified included exploitation, widow inheritance, land grabbing, poverty, and environmental degradation. The methodology used was basically an open discussion with the target group and some protestations on women, extractives, environment and land in Karamoja context.
Women in mining areas: Moroto District and ABIM district
The meeting took place on 5th and 6th respectively. A total of 22 women participated in this meeting. 12 women form Tapac and 10 women form Morulem sub county Abim District. For both districts, women carry out mining in those places and that is basically their domestic job.
The approach to the meetings was that; the opening remarks were made by Shallon Asiimire Project Assistant (Gender and Advocacy) who introduced ANARDE, their strategy on specific outreach on women and PWDs, Joseph Ahimbisibwe the project Assistant (Extractive and Nature Conservation) gave a brief over view on the relation between women, extractives and the environment, Michael Omara the project Advocate, gave a presentation on Women and their rights to own land and other resources.
The floor was then open for women to discuss on how they can gain for this project. ANARDE used this platform to carry out a needs assessment where a number of gaps facing women in both districts were identified.
Gaps and challenges
Widows and women have little or knowledge on land ownership – there is need for land rights sensitization and creating a link to gender based violence as well as power relations.
The women at the mining areas are extremely exploited. Also to note, what could be other contributing factors to this? Take for instance, what are the major market trends in relation to exploitation aspects through small markets – there is a need to sensitize them on how to organize themselves into mining associations which will help to solve issues of licensing and exploitation.
There is an urgency of addressing the links relating women with health issues since most of the mining companies are not providing them with protective gears. Women sensitization meetings should be with the right entries – engaging key departments like the community development officers and women leaders like in schools. Deteriorating weather patterns attributed to deforestation. This greatly impacts on the livelihoods of the communities in region. Poverty makes women destroy the environment to take care of their families
The meeting concluded with remarks form the representatives who mostly emphasized on a window inheritance situation that has left most of the windows landless when they refuse to be inherited.
Women in leadership:
The meeting was attended by 23 women leaders. In Abim district there were 12 participants who included the Distract Vice Chairperson, Secretary in charge of Education, Secretary Natural Resources Councilor PWDs, Secretary Production and different councilors from the sub counties in Abim district.
In Moroto, the meeting was attended by 11 women in leadership. The participants included DCDO, Gender Officer, Vice Chairperson, and Youth Councilor, Deputy Head teacher, EMTCT/HIV Coordinator and councilors in the district.
The presentations then rose in discussion where hotspots form Abim district were identified in terms of environment, land and extractives. The meeting was then closed by the District vice chairperson from both districts who thanked ANARDE for thinking about women and PWDs in that area. She pointed out that women need a lot of sensitization on how they can understand their rights in owning resources and also need legal aid especially those who were chased away from their land when they lose their husbands.
Conclusion
The needs assessment meeting provided an opportunity for ANARDE to find out the gaps that need to be addressed and also the strategies that can be adopted for ANARDE to promote women and PWDs legal outreach in Karamoja. Because it was hosted only at the district and mining areas and a few participants were chosen at random, women however suggested that we need to hold other sensitization meetings where many of them should attend to understand their rights especially the grass root.
The district women leaders and women form mining areas applauded the activity as the first of its kind and got hopes of gaining a lot from it and recommended that it should not just stop from their but they are eagerly waiting for their involvement in this project.